Wednesday, August 28, 2013
Just Launched 3 New Responsive Design Websites
To say we've been busy is to put it mildly. We just launched 3 new responsive design websites this week. I think that's a new MJS world record.
For the second annual Alameda, CA, Neptune Beach Community Celebration event, we felt it was time to give the old site a facelift. The previous site was put together really fast (and it showed) due to time constraints, but this year we had more time to focus on developing a site everyone would be proud to represent, promote and enjoy.
The site is event driven, meaning every feature had to promote or be associated with the event, including the slideshow, previewing activities, an event date countdown, band lineup and program notes.
Our client was ready to make her passion for jewelry a full-time business, and she knew she needed a website to accomplish this major event. The site was designed and developed under the WordPress platform allowing our client to update the website herself. Our client creates custom jewelry, so we thought it was appropriate to create a custom website with a complete eCommerce section ready to switch on when she was ready.
Our most recent website launch was developed and customized using a pre-designed website solution. Our client had a very tight deadline and limited budget for a fully custom website, so we offered a pre-designed website solution. The two major benefits of this solution our (1) time and (2) money. Money saved using a pre-designed website or website template, where nearly 2 phases, Information and Visual design, are already done. And Time saved because both phases are complete.
NOTE: All three websites are responsive (responsive website design) in nature, meaning they are viewable on multiple mobile devices.
Posted by: Michael Swartz at 3:03 pm
Comments: None | Filed under: News
Friday, May 10, 2013
I Take That Personally
I just received the email below from Square and it dawned on me why a personal greeting in an email is so important.
I thought this email was spam.
The email opens with Hello. They know my name. I'm a customer. Why didn't they add my name after Hello?
If someone or a company doesn't know who I am, I immediately associate the email with spam or a phishing email. This is why when Amazon and PayPal send you email, they explicitly make sure your name is included in the email greeting so you know the email is from a reputable source.
If you're sending out emails to your customer base, let them know you know who they are. Make it personal. I can almost guarantee an increase in open rate.
Posted by: Michael Swartz at 3:25 pm
Comments: None | Filed under: Email Newsletters
Monday, January 7, 2013
Who Am I?
However you feel about Microsoft, they hit the nail on the head with their Windows App Development Store homepage.
Notice how they're asking the visitor who they are and giving them a choice. They're not telling the visitor who they are.
This is a example of excellent web design…focusing on your visitor and not yourself. No one cares about you, they only care about their problems and if you can fix them.
I especially like the "I build iOS apps" button. Microsoft is not denying the fact that this is a huge market and worthy of first placement.
Lesson Learned
Find out who is your target market and market to them…directly.
Posted by: Michael Swartz at 11:23 am
Comments: None | Filed under: Web Design
Friday, November 2, 2012
MJS Web Solutions Launches 1 Source LED Website
MJS Web Solutions is proud to announce the newly, redesigned
website for 1 Source LED.
1 Source LED is a forward-thinking LED Lighting Retrofit and LED Light Fixture Manufacturing Company helping customers realize the cost and energy saving benefits of LED technology.
Website Redesign
The site was developed and redesigned for their primary target audience: distributors. The goal was to have a professional website to show prospective distributors at an upcoming tradeshow. Their previous website did not feature that sophisticated professional look and did not present the product well at all (see before and after below).
The homepage was configured to showcase their product in operation, provide immediate access to products and information about the company and why to work with them.
Content Management System (CMS)/WordPress
The website was built on the WordPress platform and is a unique custom design developed by MJS Web Solutions. It is NOT a template. Integrated into the platform is an eCommerce module that currently displays all product and is capable anytime to be a fully functional eCommerce system.
SEO
We also provided SEO (Search Engine Optimization) services which now contributes to the site's higher rankings on Google and increase in website traffic.
Results
The website currently receives, on average, 2-3 inquires a week just from their contact form.
We can do the same for your company. Contact us for your next website project.
Posted by: Michael Swartz at 4:26 pm
Comments: None | Filed under: News
Monday, August 13, 2012
AdWords: How Does it Work?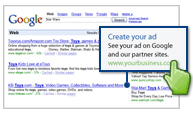 We manage multiple AdWords campaigns for some or our clients. We recently received a new request from an existing client who was curious about starting a new campaign but wanted to know 'how it worked'. I wanted to share with you what I shared with him.
AdWords is a pay per click service. It's a process of about 5 steps:
Goal Setting/Campaign Strategy: Why do we want people to come to the site? Make an inquiry? Learn more about a product? The more specific we are, the greater chance we have of converting. The generic ads really don't work. We need to have a reason why people would click on our ad rather than your competition.
Keyword Research & Selection: Once we have a chosen campaign strategy, we need to decide what keywords your audience will type into the search engine to display our ad(s).
Creating Ad(s): After we've compiled our keyword list, we need to create up to 3 ads (test performance of each) that include these keywords, along with a call to action and other elements to get your audience to click.
Creating or Selecting a Landing Page: After the ads are created we need to determine where our audience will go after they click. This could be a page on the current website or a separate 'landing' page specifically for the chosen campaign. The later (landing page) are more successful in that they are less cluttered pages that have only one goal in mind.
Measure & Maintain: After we've initiated the ads, we'll need to monitor our performance and make any adjustments necessary to ensure a profitable campaign.
Let us know if you'd like to begin a new AdWords campaign for your organization. We have a $100 coupon to get you started. Contact or call us: 510-523-7312.
Posted by: Michael Swartz at 2:23 pm
Comments: None | Filed under: SEO, Web Marketing
Thursday, August 2, 2012
MJS Web Solutions Launches USCG Fitness Challenge Website
To encourage United States Coast Guard members to get into shape, USCG District Eleven hired MJS Web Solutions to design and develop a website for their Physical Fitness Challenge program to dynamically track team participants as they figuratively raced around the District area of response (AOR). Teams would log into the system and input their exercise time and the program would convert their time into virtual miles thereby tracking team mileage. The team that reached 2898 miles was the winner.
Website Benefits
Prior to developing the website, the Physical Fitness Challenge program was managed on paper and was difficult to track progress and participation. Designing the new website allowed coordinators to focus strictly on progress with access to dynamic reporting features and enabled participants a hands-on involvement; accessing the system, uploading their data and being able to view their placement within the race.
MJS Web Solutions worked closely with United States Coast Guard staff to deliver a powerful, streamlined system.
IT Services were handled by MJS Web Solutions including setup, installation and configuration
A fully integrated content management system was developed for updating ease-of-use
Online tracking and reporting kept the site 'alive' and fresh with active content
Online tools and account access encouraged interactivity with the website
To encourage continued participation in the program, MJS Web Solutions integrated a photo upload tool, so participants could upload and view other team member exercise photos. Team members could also view each other's progress encouraging competition and additional exercise time by participants.
Exceeding Expectations
Participation within the program broke records; recording the highest participation levels since the program was enacted. Future maintenance and enhancements are on track for next year's event, including tracking participants dynamically on a map that adjusts their position based on their tracking score.
Features Include: Streaming video, login access, content management system (CMS) with administrative section for managing accounts, email alerts, dynamic reporting, photo upload tool, calculator tool, and interactive content generation.
Website Screenshots
| | |
| --- | --- |
| Homepage with video and login access | Team Leader page with dynamic graph of participant progression in the program |
| Individual team details page including uploaded team photos | Course map. Notice login box is represented in upper right of every page |
Posted by: Michael Swartz at 3:22 pm
Comments: None | Filed under: News
Friday, June 8, 2012
MJS Web Solutions Launches New Kamakura Restaurant Website
MJS Web Solutions is proud to announce the new Kamakura Restaurant website launch, a restaurant icon in Alameda, CA.
A complete redesign, the goal of the new website was simply…quality. The new site showcases various menu items and specials and paid strict attention to anyone wanting to dine out. Hours, location and phone number are prominently positioned and in plain view. Obviously the menu is online (but not in PDF format) and broken up into submenus for easy navigation and selection.
MJS Web Solutions also designed and developed their new menus. The Menus were created first and design elements  were mirrored into the website for a consistent theme and branding experience.
Always the best food and service at Kamakura. Mike Swartz says, "Check 'em out"!
Posted by: Michael Swartz at 3:21 pm
Comments: None | Filed under: News
Friday, March 23, 2012
Store Locator Design Showcase
We are redesigning a new client's website which includes a Store Locator option. The client has asked us for some examples and I'd like to share what we thought were some of the better store locators.
To make the cut, the locator had to at least:
Provide a map
Be useful
Look pleasing to the eye
List includes search results pages, not store locator entry pages, though the best locators were those that provide the search function on the results page.
Posted by: Michael Swartz at 3:47 pm
Comments: None | Filed under: Web Design
Thursday, March 1, 2012
No Two Searches Are Created Equal
The reason why some search engine ranking positions fall or increase has everything to do with how Google interprets a search. Google is always evaluating and testing to make sure the searcher is provided with the most relevant search result.
All Searches Are Not Created Equal.
All searches are not created equal. Search results are only accurate at the time of search. My search result will look different from your search and will fluctuate because of Google's continuing algorithm modifications, differences in our physical locations and personalization settings.
Real Time Data
Fluctuations in rankings may also occur due to real time data. Facebook, Blogs, Twitter and other real time content providers have motivated Google to index the internet in real time. Thus, Google may determine that a blog post, for instance, has significant value over a static web page and rank it higher.
Your State of Mind
Since Google is trying to provide the most relevant search result, they'll try to provide search results based on what state of mind the search is in. For example, weather the searcher is in a 'browsing' or 'buying' mode at the time of search. Search results will determine this answer. When you see Google ranking Yelp and other directory websites within the search results, Google has determined, based on in-depth research, that the searcher may be browsing for goods and services rather than an immediate need to purchase, which would be indicated by a more specific product search or problem the searcher is having. For example: 'washing machine repair companies' (browsing) or 'help with flooded basement' (immediate need).
Other factors, with regards to fluctuating rankings, could be competitors using SEO techniques and new websites being indexed by Google.
Our job, as SEO specialists, is to monitor this activity, determine how Google is interpreting that search and modify our position accordingly by providing quality targeted keyword phrases and unique website content for Google to index.
Posted by: Michael Swartz at 3:04 pm
Comments: None | Filed under: SEO
Monday, December 19, 2011
Shopping Cart Checkout Login Example – Smart Design
While purchasing Christmas gifts online, I recognized an excellent shopping cart checkout login interface – See's Candies.
Support Phone number is here in case you need it. And I did.
Your website visitors, especially purchasers, want to know where they've been, where they are and where they're going. See's Candies doesn't surprise you. They tell you up front what's coming up next.
My favorite feature: Checkout as a Guest. Many times, I just want to order and go, without spending time creating an account. Give me the option and See's Candies does.
When designing a shopping cart login interface, learn by example.
Posted by: Michael Swartz at 11:06 am
Comments: None | Filed under: Web Design